The celebration of Magic Valley Electric Co-op's 80th anniversary brought approximately 750 people – members and guests—to the Harlingen Municipal Auditorium on April 17. The crowd represented a small fraction of Magic Valley's 97,000 members—the third largest Co-op in Texas.
Juanita Alvarado of Mercedes has been a member of Magic Valley Electric Co-op for 20 years, but had never attended an annual meeting. This year, Juanita decided to go and meet people from diff erent Valley cities. "I wanted to see what it's all about and fi nd out more about Magic Valley."
Accompanied by her mother, Manuela Uriegas, and her daughter, Adela, Juanita arrived early for the meeting, registered quickly, was entered into the door prize drawing and then snacked on chocolate chip and macadamia nut cookies and water. Before taking seats in the auditorium, Juanita and her family visited the vendor exhibits. She picked up an MVEC Co-op Connections Card. This FREE membership card gives discounts to members on prescriptions at participating pharmacies; members also receive a 10% discount at Monterrey Café, Pimientos in Weslaco, Bar-B-Cuties Smokehouse in McAllen and Pharr, and Extreme Nutrition in Weslaco, Mercedes and Harlingen. The Co-op Connections Card is another way MVEC is committed to helping its members save money.
At the exhibit, Jeobana Rios, an MVEC customer service representative, explained a new way to pay your MVEC monthly bill. The EZPrepaid electricity plan lets members decide how much electricity to purchase, by paying for electricity before they use it. Under the EZ-Prepaid plan, members will not receive a monthly bill; instead, the cost of the electricity they use will be deducted from the pre-paid account on a daily basis. This electricity plan will help members avoid late fees and reconnect fees. "The EZPrepaid electricity plan is designed to appeal to young, millennial members as well as Winter Texans and those who may have trouble paying bills ontime," she said. "Our members were asking about new ways to pay their bills. With the EZPrepaid, they simply pay what they want and how they want. If their balance is running low, the member receives periodic notifi cations by email and text message."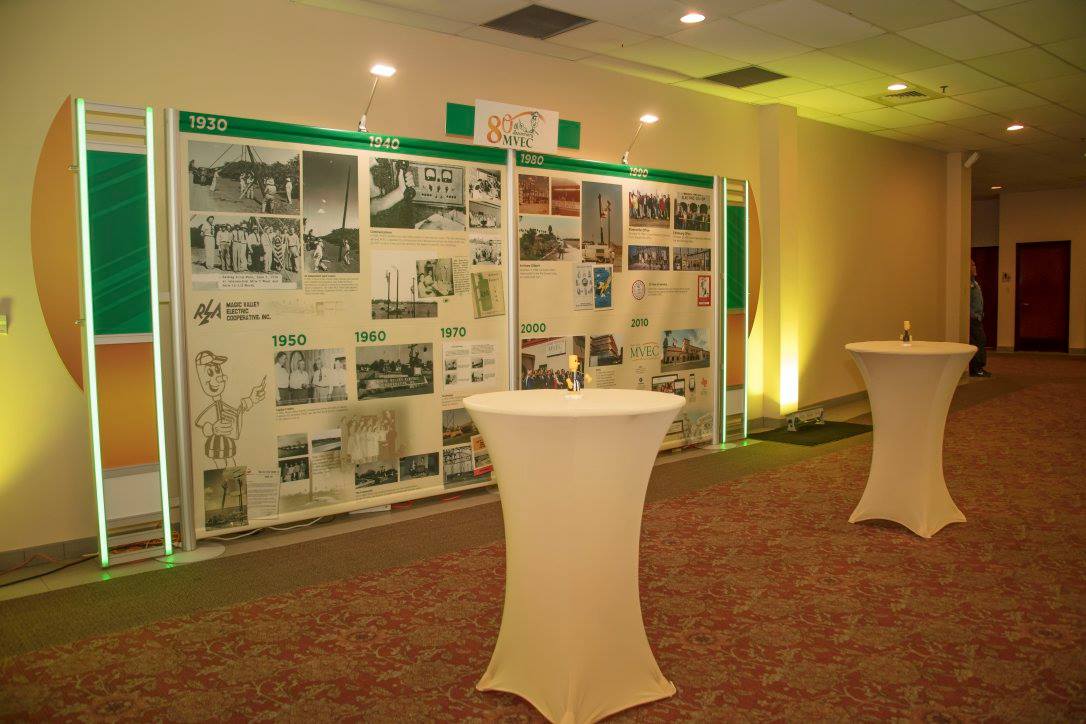 Ann Moncus, who was attending her first MVEC annual meeting, mentioned her husband's grandfather, W.M. Moncus, had become a Magic Valley member sometime around the early 1940s, as soon as the lines were installed in north Harlingen. More than 75 years later, the Moncus family farm on Briggs Coleman Road is still getting its electricity from MVEC. Ann, 75, and her son represent the third and fourth generations of MVEC members at one location. "I've always trusted Magic Valley. Even with Hurricane Beulah in 1967, when we had fish swimming in the driveway, we still had electricity."
She recalled the Co-op crew that found a solution when her husband did not want certain trees topped although branches were touching power lines. "They brought in another pole, which kept the lines out of the trees. They were that understanding of his concern."
Father Tom Pincelli, an MVEC member since 2009, has also been impressed by Magic Valley's service. "When there's a problem, they are there in a heartbeat. They don't dilly-dally." Because the 2017 meeting was being held in Harlingen, close to Hector Benavidez's home, he decided to attend his first annual meeting and brought along his two young daughters, Giselle and Kendra. "I'm curious what it's about, because I've seen the pictures from other years," he said. "Now I can tell my friends what goes on … and I could win a truck." Once the meeting was called to order, Dr. Martin E. Garcia, President of MVEC's Board of Directors, summarized the Co-op's growth. "Magic Valley has done a lot more than just keep the lights on for its members," he said.
In the past year, the Co-op launched an online service sign-up, began using a workforce management system that improves response time, opened a Pharr office and remodeled the Edinburg office. It has continued bilingual publications and a commitment to Co-op and Co-op employees' involvement in charities and community organizations. Overall, 91% of MVEC members report they are satisfied with their service.
General Manager, John Herrera, added to Dr. Garcia's statement about employee engagement. "It is employees who are making this happen for our members. Every day, they make sure your power is on." Eighty years in the future, he predicted, Magic Valley Electric Co-op will still be lighting up the Rio Grande Valley.
In 2016 alone, the Co-op returned $5.6 million dollars to members as capital credits. Unclaimed capital credits go to scholarships for members' sons and daughters. This year seven students were awarded $15,000 scholarships, one for each Co-op district.
Wrapping up the evening, 18 members claimed door prizes ranging from $100 electric bill credits, a learning thermostat and home and yard tools, to electronics and a 55" television. "We want to be there for our employees. We want to be there for our members," Dr. Garcia said in closing the event. The next meeting will be held in Harlingen on April 16.